Nikon Z5 Review – Entry-Level Excellence
As you delve into this Nikon Z5 review, you'll uncover a camera that balances performance, affordability, and versatility seamlessly. In a market brimming with robust competitors, the Nikon Z5 stands out as an affordable yet powerful choice for both amateur and professional videographers and photographers. Let's explore the various features that make this camera a compelling choice.
CURRENT PRICE
$1446 on Amazon
EDITOR'S RATING
★★★★
PROS
– Full-frame 24.3MP sensor for excellent image quality
– 4K video at 30fps
– Compact and lightweight design
– In-body image stabilization (IBIS)
– User-friendly interface
CONS
– Limited frame rates for 4K video
– Battery life can be improved
– Single card slot
Why you can trust Aktion Productions: Our team of expert videographers and photographers put products through rigorous testing to provide you with detailed and unbiased reviews. Find out more about how we test, rate, and analyze.
Nikon Z5 Review of Features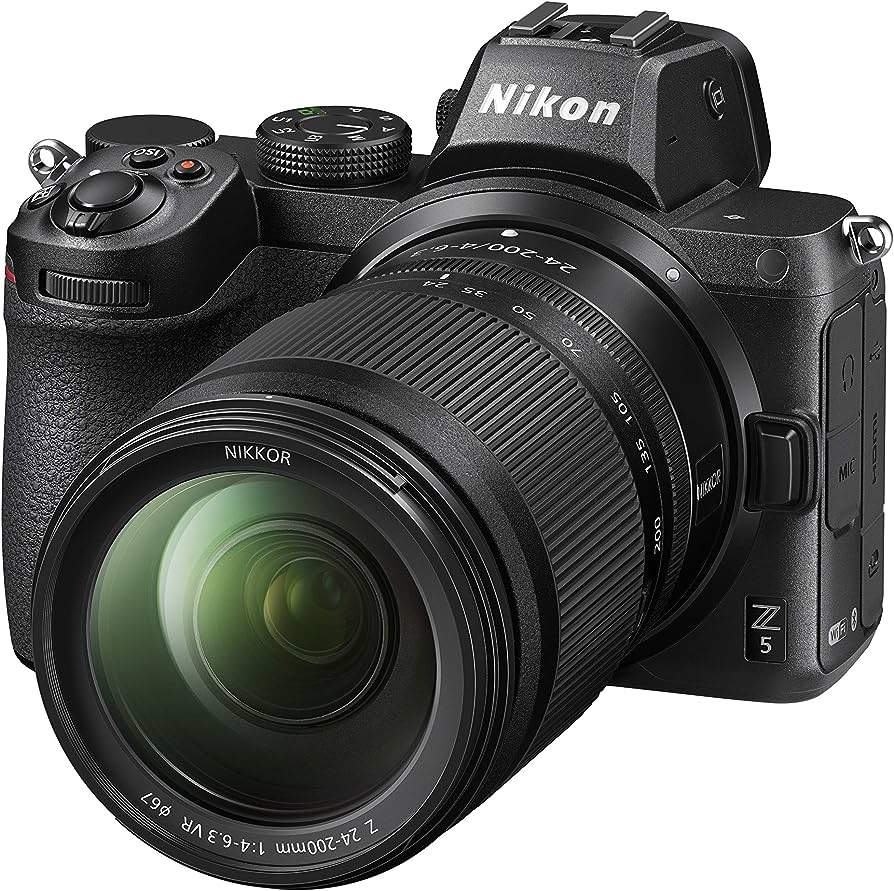 | FEATURE | SPECIFICATION |
| --- | --- |
| Image Sensor | Full-frame 24.3MP |
| ISO Range | 100-51,200 (expandable to 102,400) |
| Autofocus | 273-point hybrid AF system |
| Video Capabilities | 4K UHD at 30fps, Full HD at 60fps |
| Lens Mount | Z-mount |
| Battery Life | Approx. 390 shots per charge |
| Connectivity | Wi-Fi, Bluetooth, USB-C |
| Viewfinder | OLED, 3.69 million dots |
| Weight | 675g |
Nikon Z5 Review – Feature Evaluation
Nikon Z5 Review – Image Quality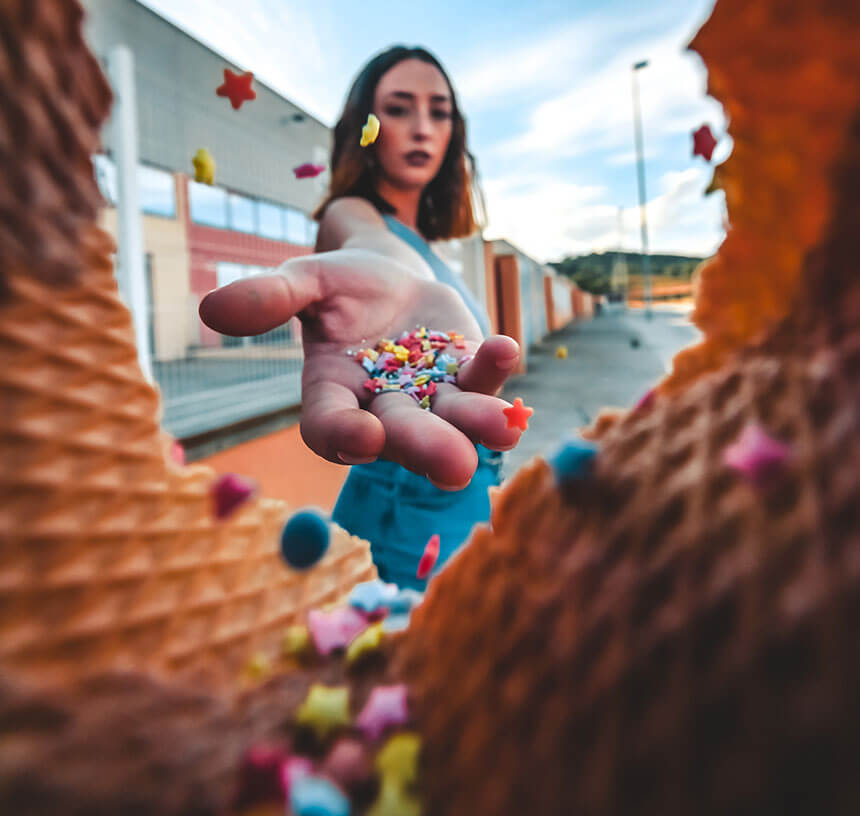 Sensor and Resolution
With a 24.3MP full-frame sensor, the Nikon Z5 delivers exceptional image quality. It is particularly adept at capturing detailed landscapes and portraits. The full-frame sensor allows for a broader dynamic range, which brings depth and vitality to your images.
ISO Performance
The ISO range of 100-51,200, expandable to 102,400, provides excellent low-light performance. This feature enables you to confidently capture images in varying light conditions without sacrificing image quality.
Nikon Z5 Review – Lens Options
Z-Mount and Its Advantages
The Nikon Z5 is equipped with the new Z-mount, designed to facilitate a high-speed communication between the lens and the camera. This results in faster autofocus, improved image stabilization, and generally superior image quality.
Range of Lenses
Nikon's Z-mount lens lineup offers a broad range of options. From the ultra-wide Z 14-30mm f/4 S for landscape photographers to the Z 70-200mm f/2.8 VR S for sports and wildlife photography, there's something for everyone.
Nikon Z5 Review – Autofocus
The Z5 sports a 273-point hybrid AF system that ensures quick and accurate focusing. This system excels in tracking subjects and also performs well in low-light conditions.
Nikon Z5 Review – Video Capabilities
The Nikon Z5 offers 4K video at 30fps and Full HD at 60fps. While the frame rates are limited compared to some competitors, the quality and color reproduction in the videos are excellent.
IBIS in Video
The in-body image stabilization helps you capture smooth video footage, an essential feature for those shooting without a tripod or gimbal.
Nikon Z5 Review – Portability
Weighing in at 675g, the Nikon Z5 is relatively light and portable. Its compact size makes it an excellent choice for travel videography and photography.
Weight and Dimensions
The Nikon Z5 comes in at a weight of approximately 675g (body only), which is relatively light for a full-frame mirrorless camera. Its dimensions are 134 x 100.5 x 69.5 mm, making it a compact camera that fits comfortably into most camera bags or even a larger coat pocket. These specifications make it much easier to carry around for extended periods, whether you're hiking, exploring urban environments, or capturing family events.
Ergonomics
The ergonomic design of the Nikon Z5 is another factor that enhances its portability. The grip is well-designed, offering a comfortable hold that minimizes hand fatigue during long shooting sessions. This ensures that the camera remains secure in your hands, even when moving quickly or adjusting your position frequently.
Lens Choices
Nikon's Z-mount system features a wide range of lenses, from wide-angle to telephoto. For those prioritizing portability, there are compact and lightweight lens options, such as the NIKKOR Z 24-50mm f/4-6.3 or NIKKOR Z 35mm f/1.8 S. These lenses are well-suited for a variety of situations, yet don't add significant weight or bulk to the camera setup.
Battery Life
The battery life of the Nikon Z5 is quite respectable, offering around 470 shots per CIPA standards on a single battery charge. While not class-leading, it's sufficient for most day trips and casual shooting scenarios. For those planning longer adventures, the camera's USB-C charging capability is incredibly useful, allowing you to recharge the battery on the go via a power bank.
Weather Sealing
The camera comes with some degree of weather sealing, making it resilient against dust and moisture. This durability allows photographers to carry the camera through diverse environments without being overly concerned about damaging the camera's internals. However, it's worth noting that the weather sealing is not as comprehensive as on some higher-end models, so some caution is still advised.
Accessories and Straps
Lastly, the Nikon Z5 is compatible with a variety of straps and harness systems, adding to its portability. Whether you prefer a wrist strap for quick shooting or a harness for more balanced weight distribution during lengthy outings, there are multiple options to make carrying the Z5 even more convenient.
Nikon Z5 Review – Battery Life
The battery life allows for approximately 390 shots per charge, which could be better. For extended shoots, an extra battery is recommended.
Nikon Z5 Review – User Interface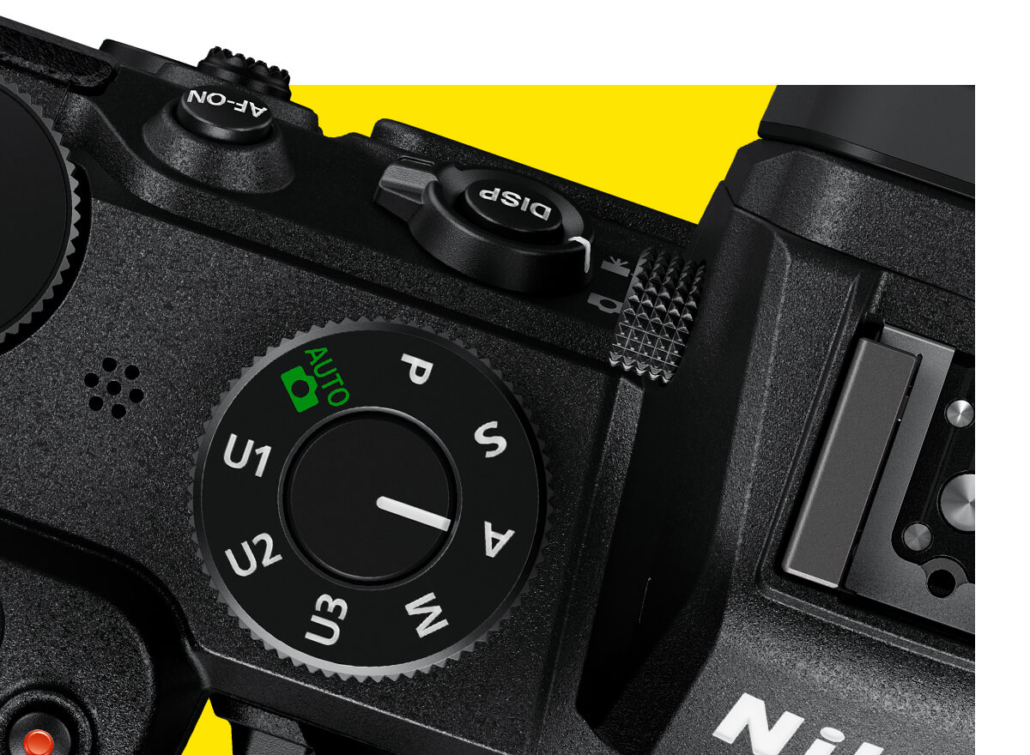 The Z5 features an intuitive user interface with a touchscreen display. Even if you're new to Nikon's ecosystem, you'll find the camera easy to operate.
Menu System
The Nikon Z5 features a menu system that is well-organized and easy to navigate. Users who have experience with Nikon's DSLRs or other Z-series cameras will find it familiar. The menu is divided into various tabs, including Playback, Shooting, Custom Settings, System Setup, and more, making it easier to find specific settings.
The menu also features color coding and icons for different categories, which can make it even faster to locate the option you're looking for. You can also customize a "My Menu" tab where you can add frequently used settings for quicker access.
Touchscreen Interface
The Z5 comes with a 3.2-inch, 1.04 million-dot LCD touchscreen. The touchscreen adds another layer of ease, allowing you to scroll through menus, review photos, and even touch to focus. The touch functionality can be particularly helpful for quickly selecting focus points while in Live View mode.
Physical Controls
The physical controls on the Nikon Z5 are also designed for easy access and operation. The camera includes the usual buttons for menu, playback, delete, etc., as well as multiple customizable function buttons. There's a main command dial and a sub-command dial, allowing for quick adjustments of settings like aperture and shutter speed. The placement of these controls is generally ergonomic, facilitating a smoother user experience.
Information Display
The Nikon Z5 does not have a top LCD screen like some of the more professional models, but the main LCD and electronic viewfinder (EVF) offer detailed information displays. These displays can be customized to show the data most relevant to your style of shooting, such as histogram, current ISO, aperture, and shutter speed.
Quick Menu (i-Menu)
The camera also features a Quick Menu, often referred to as the "i-Menu," accessible via a dedicated button. This brings up a simplified interface overlaying the live view screen, from where you can change commonly-used settings like ISO, white balance, and autofocus mode without having to dive into the main menu system.
Firmware Updates
Nikon periodically releases firmware updates that may improve or even overhaul the user interface, adding new features, functionalities, or refinements based on user feedback.
User Customization
One of the strong points of the Z5's interface is its level of customizability. Not only can you program function buttons, but you can also save specific settings profiles that can be quickly loaded depending on your shooting situation.
Nikon Z5 Review – Build Quality
Constructed with a solid magnesium alloy frame, the Z5 is durable but not fully weather-sealed. It is, however, reliable for most shooting conditions.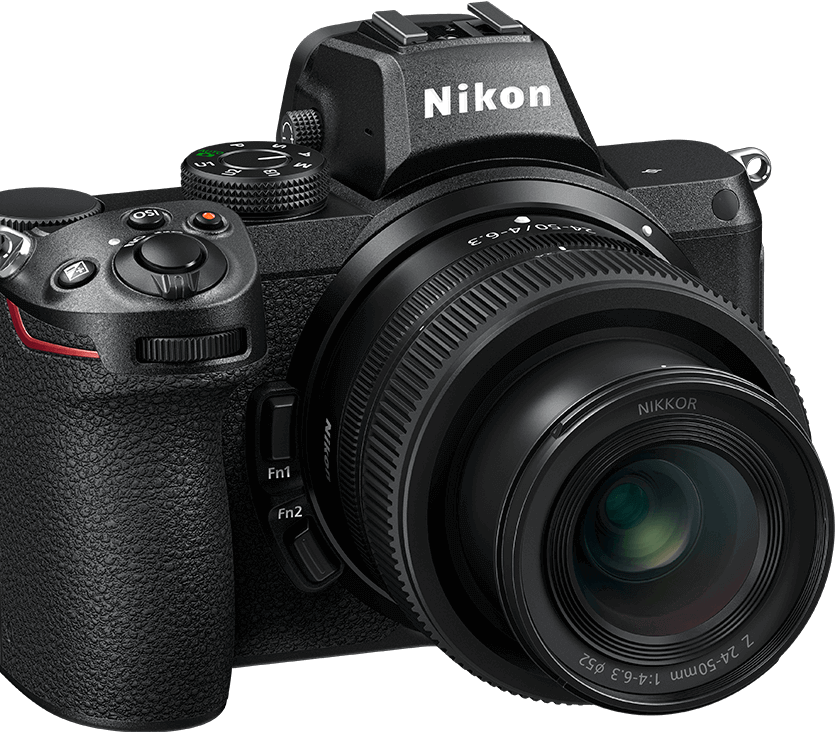 Material and Construction
The Nikon Z5 features a robust construction with a magnesium alloy front plate, offering a good balance between weight and durability. The rest of the camera body is made of high-quality polycarbonate plastic, which provides some cost savings compared to full magnesium alloy bodies while still offering durability.
Weather Sealing
The Z5 is weather-sealed to protect against dust and moisture. While it's not designed to be fully submersible, the sealing makes it capable of handling adverse weather conditions like rain and snow, provided that the lens you are using is also weather-sealed. This makes the Z5 a reliable choice for outdoor photography, including landscapes, wildlife, and even some adventure sports.
Ergonomics
Ergonomically, the camera features a deep grip, making it easier to hold for extended periods of time. The placement of controls and buttons is well thought out, ensuring that essential settings can be quickly and easily accessed. The texture of the grip is designed to provide a secure hold even if your hands are wet or sweaty.
Buttons and Dials
The physical buttons and dials feel solid, providing tactile feedback that makes it clear when a setting has been changed. There's very little "wobble" or play in the controls, and they have a durable feel that suggests they will stand up to frequent use without issues.
LCD and EVF
The 3.2-inch LCD and the Electronic Viewfinder (EVF) are built to high standards. The LCD is crisp and clear, while the EVF provides an accurate representation of the scene in front of you. Both feel securely integrated into the body, with no loose or wobbly parts.
Lens Mount
The Z-mount of the Nikon Z5 is made of metal and is designed to handle both lightweight and heavy professional-grade lenses. The mount is built to maintain a secure connection with the lens, ensuring that the electronic contacts align properly for consistent communication between the lens and the camera.
Port Covers and Access Points
The port covers for the USB, HDMI, and other connectors are securely attached and sealed to help keep out dust and moisture. The battery and memory card compartments also feature secure locking mechanisms.
Durability Over Time
While it's difficult to gauge the long-term durability of a camera definitively, the Nikon Z5's build quality suggests that it will hold up well over time, especially if properly cared for. It seems capable of withstanding the wear and tear that comes with regular use, particularly for those who are cautious about protecting their gear.
Nikon Z5 Review – Price
Retailing at around $1,446, the Nikon Z5 offers an array of features that present a great value for its price, making it accessible for hobbyists while being robust enough for professionals.
Nikon Z5 Review – Connectivity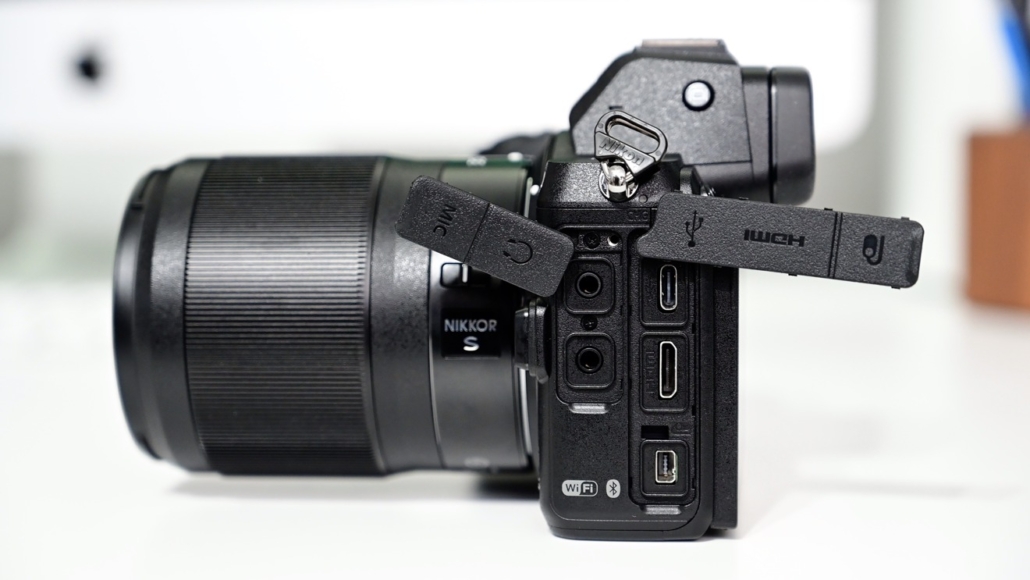 The camera offers Wi-Fi, Bluetooth, and USB-C connectivity, simplifying file transfers and allowing for remote camera control via a smartphone.
Nikon Z5 Review – Viewfinder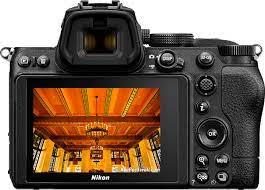 The OLED viewfinder boasts 3.69 million dots and provides a crisp, clear display for composing your shots.
Conclusion
The Nikon Z5 proves to be a compelling option for both photographers and videographers, balancing affordability with a rich feature set. Its combination of a full-frame sensor, robust autofocus, and video capabilities make it a versatile choice for various shooting scenarios. While it may lack some of the high-end features found in more expensive models, the Z5 offers exceptional value for its price. Whether you're a hobbyist or a professional on a budget, the Nikon Z5 deserves serious consideration.
With over 12 years of experience, Norbert Vasko is a seasoned video producer and editor known for his creative excellence and leadership. As the Lead Videographer and Editor at Aktion Productions, he has driven significant online engagement for clients, producing up to 70+ videos weekly that have garnered over 800,000 views.
A graduate of Full Sail University with a Master of Science in Entertainment Business and a Bachelor of Science in Film, Norbert holds a Part 107 Commercial Drone License.
Looking for a Top Rated Orlando Video Production Company?
Use Orlando's Trusted Choice
Don't settle for subpar video content. With years of experience in both corporate and creative video production, we are the trusted choice for Orlando video production. Whether you're looking to capture your brand's story or create compelling advertising campaigns, we have the expertise to make your vision a reality.